Submit a Return Request for any damaged, defective, or flawed products received.
We stand behind all of the merchandise printed for you. Printed, cut and handmade with upmost high quality and accuracy, we are your trusted resource for fulfilling your customers orders. That is why we offer a 100% print guarantee! Whether your merchandise has been damaged in transit, a design flaw was produced, we are committed to providing solutions and making it right for you. Our in-house Customer Experience team is fully equipped to process your return request quickly and efficiently so you spend less time waiting, and more time making your customers happy.
In the event your product or your customers product is damaged or defective, please submit a Return Request within fourteen (14) days of delivery of the damaged or defective product and you must provide reasonable proof to us of such damage or defect. Kin Custom will promptly review your correspondence in order to determine whether such damage or defect warrants a refund. Kin Custom will inform you of its decision to approve or deny your request with an explanation of its decision.
Return Requests are located in Creator Studio:
Click 'Orders' on the left side menu.
Click 'Returns' on the top menu.
Complete the form along with submitting photo evidence.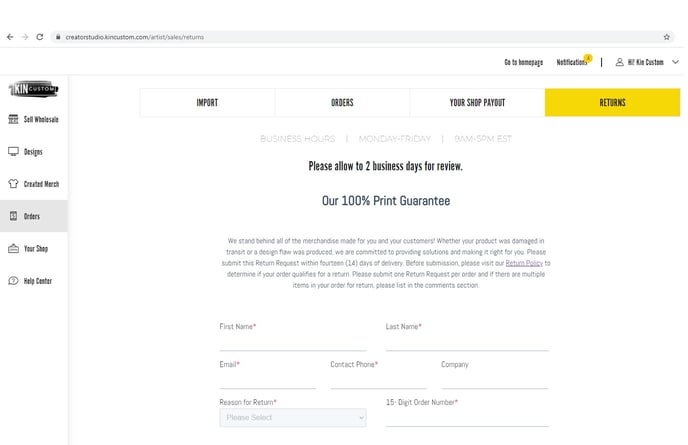 Should the return be considered a defect, Kin Custom reserves the right to investigate and conduct a thorough analysis of the defect, which may include sending the defective merchandise to Kin Custom before a decision can be made. For defective products, Kin Custom will offer a pre-paid shipping label and the merchandise must be shipped within seven (7) days of the issued pre-paid label date. Failure to send back the merchandise within seven (7) days of receiving the shipping label will disqualify the order from the review process and a refund will not be issued.
Kin Custom will not honor defect requests which are attributed to your customers size concerns or design flaws, which may include: spelling, grammatical, font, design, or appearance errors, if such errors are attributed to your submitted creation, design or customization.
Before submitting for a return, please note the following:
Packaging and product returning must be in original form. Dirty or worn clothing with missing tags/labels are not eligible. Washed clothing is not eligible for return.
Review our sizing charts before orders are placed to ensure our sizing meets your product requirements for your customers.
Review our Print Guide so you are aware of each disclaimer, print method and its requirements for best quality printing.
Review our Photo Submission requirements in order to avoid delay.
For returns including defect requests, it's the shop owners responsibility to communicate with their customer on shipping instructions should they want the return product sent to their address in lieu of Kin Custom fulfillment center. If a customer submits a return to Kin Custom fulfillment center instead of the shop owners return address, the shop owner has 30 days to submit a return inquiry for their customers order. After 30 days, the returned product will then become Kin Custom property for donation. Should any of the information listed above be incomplete or inaccurate, the return processing will be delayed.